Student Sponsorship Program
Changing Lives - one student at a time
Children in the town of Bondo, Kenya
Our Results
The student sponsorship program, which began with the sponsorship of 15 secondary school students in 2006, has grown beyond expectations. As we approach the end of 2019 a total of 225 young Kenyans, almost all of them total or partial orphans, have been recipients of a Caring Partners Global student sponsorship.
The following is a summary of the 132 students who are no longer being sponsored by CPG at the end of 2019:
7 dropped out of secondary school for various reasons before graduating

13 went as far as a secondary school graduation

112 eventually graduated from a post-secondary institution (69 college graduates with a Certificate or Diploma, and 43 university graduates with a Degree)
The remaining 93 students are presently being sponsored in 2019:
3 in a primary boarding school (fostered children)

34 at secondary, boarding schools

20 at colleges studying for a Certificate or Diploma

36 at universities studying for a Bachelor Degree
Sponsored students attending Nyamira Girls' High School near Bondo
How are Students Accepted for the Program?
The Matangwe Community Health & Development Program (MCHDP) provides oversight for the program in Matangwe. Potential recipients of student sponsorships must complete an application and undergo a selection process that include, an interview by staff, a sub-committee of the MCHDP board of directors and a consultative process with respective village elders to verify need. Students are selected based on their results on the national exams that all grade 8 graduates must write, the Kenyan Certificate of Primary Education (worth 45%), financial need (worth 45%), and citizenship (worth 10%). Most of the successful recipients are either total or partial orphans. At least 50% of recipients must be female.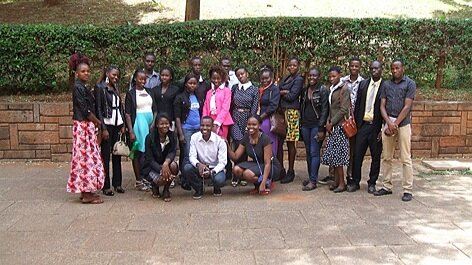 Sponsored College and University students originating from the Bondo area meeting at the University of Nairobi in 2016
We are Proud of Our Graduates
The vast majority of our graduates are eventually finding employment as a result of their post-secondary education. It may begin as an internship, then a contract position, and finally a full-time position. It is a testament to the program, our generous sponsors but most of all to the students for their hard work, perseverance and discipline. Congratulations!